WinePusher wrote:

otseng wrote:But, even if it was a flood that covered as far as the eye can see that lasted for over a year, that would be quite a spectacular flood. How can you explain how such a flood can occur?

I'm afraid I can't address the meterological aspects of that question.
However, for a global flood, I do have an explanation (and there's no need to simply invoke "God did it" either). So, if you do not have an explanation for a local flood and I do have an explanation for a global flood, the global flood interpretation would be more tenable.
otseng wrote:Who would have been the flood eyewitness?

Assuming a local flood occured, people who survived it would have carried it out by oral tradition until it was written down. There was no single eyewitness.
How do you know there were multiple eyewitnesses (outside of those that survived in the ark)?
Assuming a global flood occured, would you ssay that Noah wrote it? Or that God reveled it to Moses?
The flood narrative was passed down orally starting with Noah and his descendents.
1) The author probably thought the entire earth was flooded because he saw water covering the entire ladn around him.

otseng wrote:Who was the author?

The

Jawist source

.
Are you saying the Jawist source was an eyewitness of the flood?
WinePusher wrote:But the difference is that his conception of the world would have been drastically different then ours, he would have viewed it as a flat surface while we would view it as round planet.

otseng wrote:I would not necessarily agree with that since nowhere is it explicitly stated in the Bible that the world is flat.

Well, that mutually hurts both our points. No where is it explicitly stated that the earth was round.
However, I'm not arguing whether the earth was thought to be spherical or flat. So, I don't see how it hurts my point.
otseng wrote:But, though man might have a limited view of the Earth, God would not. So, why would God have stated in Gen 6:7 to destroy things that He "created from the face of the earth"? This would indicate that all the world would've been flooded and not just part of the world.

That is very true, but we are arguing in secular terms.
Since you stated "I accept the Bible as the inerrant word of God, I accept the Bible as my primary source of Dogma and truth, and I accept the Bible as a God-Inspired document." we are not debating on a secular level, but we are assuming that the Bible can be used as an inerrant primary document.
So, you cannot simply dismiss what the Bible states out of convenience. If you are going to accept that the Bible is inerrant, then you need to have a position that is consistent with what the Bible says. And saying that the flood was local would not be consistent with Gen 6:7.
This is similar to when to the "God Did It" explanation, I certainly believe that God could cast a global flood down on the earth if he wished, but that is the fundamentalist drug of biblical studies.
Actually, when I debate non-Christians on the flood, I never invoke "God did it". And I only present non-Biblical empirical evidence to support my position.
When faced with a historical problem, the fundamentalist appeals to revelation and scriptural authority, and the inquiry stops.
It's not really a historical problem for me, but is quite consistent with natural and Biblical evidence.
So you would also agree that the flood tale (if one actually occured) would have to be carried on orally since the only written history we have goes back as far as 3500BC.
I would say that most likely the narrative was passed down orally for some time. As for the length of time, I cannot give a number.
WinePusher wrote:-How would Noah and his family had gotten food?

otseng wrote:Do you mean while on the ark or after the flood?

Both.
They brought food along with them in the ark. And after the flood, the vegetation grew back. Vegetation even started to grow back before they left the ark.
Gen 8:11 And the dove came in to him in the evening; and, lo, in her mouth [was] an olive leaf pluckt off: so Noah knew that the waters were abated from off the earth.
otseng wrote:Do you believe that Noah existed or not?

No, I don't believe he existed. Do you believe that he existed?
Of course I believe he existed since I interpret the text literally.
If Noah did not exist, what/who was he? What does Noah refer to in Gen 5-10 then?
There are huge similarities between the two stories, as noted in this

Christian Website

. Let me say that I agree with their conclusion.
The Sumerians were not the only civilization to have a flood story. There are
many cultures
that has a flood story.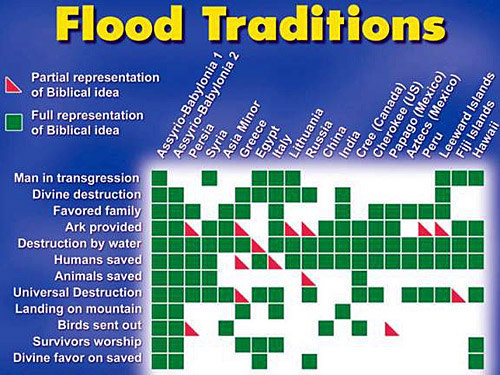 http://www.nwcreation.net/noahlegends.html