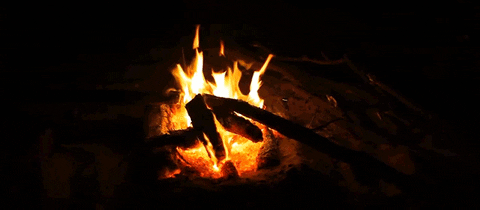 The stars are out in full force tonight. A sliver of a moon crescents itself upon the black backdrop of the nights sky. I hear my Friend Te Ruru hoot from within the trees behind me.

I place another log on the fire and then pour myself a brew from the kettle sitting in embers I previously scoped to one side of the fire.

I look over to my companion. We have been speaking about our concerns with Christians, and wondering why we both appear to share certain position as to the underlying hidden things which Christians turn a blind eye to in regard to their many different and sometimes opposing beliefs.

I think about my ancient Friend, Manu Iti. He would normally be right here at this very fireside, sharing in the chatting. He must be away on one of his many missions. I hope he will stop by sometime soon, and then use my tablet to send him a quick message, letting him know I am here, and have brought someone with me.
William: So - my potential Friend-in-the-making, to continue with our conversation, I have a story to share which was told to me by an old Friend. It involves science fiction and fact, but in the telling I advise you take it as simply a story. Whether it is true or not, is not the reason I want to share it with you, but simply because I feel there are practical analogies which can be taken from it, in relation to the question of Christians and having nothing to hide.

The main character goes by a number of names, depending on how the other characters see him, but he is a human being and I will use the name the Extraterrestrials in the story call him - that being "Joey".

Now the reason ET call him that is because Joey reminds them of a Kangaroos offspring, in that he has always reacted to his human experience in the manner of a Joey, wanting to bounce around all over the landscape and have fun with it, but very scared of it at the same time, so stays close to his Mothers pouch, which he knows is safe and warm and secure.

But eventually Joey had to leave that nest because the world beckoned and he had grown so big that he couldn't fit anymore, anyway. In being forced to find his own feet, he bounced hither and tither over the nearby-to-his-Mother-landscape, and learned quite quickly that it had been an illusion that he had ever really been safe in that warm Motherly pouch, since his Mother was actually no more safe than anyone else who existed in said landscape.
I reach for my trusty pipe and stoke it with 'Erb. The fire cracks as I light the 'Erb and draw on its sweet smoky flavor. I look over to my companion, and smile. I would love to tell him this story, but don't want to assume he would be interested, even being that the whole point of a Fire, is to tell stories around it.
William: So, would you like to hear more about Joey? Or we can continues where we were a moment ago, if you prefer.
I point to the kettle, indicating to my companion to help himself to a brew.