Replying to post 48 by EarthScienceguy]

[

EarthScienceguy wrote:

It takes energy to organize the genome into the correct sequence to create all of these animals. And to organize how these animals use and transport energy. This extra energy to preform these tasks breaks the second law of thermodynamics so this "evolution" as you say is impossible.



E=MC²... E (energy) is equal, equivalent to, M (mass or matter). Matter IS energy. Matter is a form of concentrated energy.

The sun bathes the Earth in energy 24 hours a day unrelentingly.

Wikipedia
Chlorophyll
Chlorophyll (also chlorophyl) is any of several related green pigments found in cyanobacteria and the chloroplasts of algae and plants.[1] Its name is derived from the Greek words χλωρός, chloros ("green") and φύλλον, phyllon ("leaf").[2]

Chlorophyll is essential in photosynthesis, allowing plants to absorb energy from light.


https://en.wikipedia.org/wiki/Chlorophyll

Plants use chlorophyll to turn energy from the sun into sugar. Sugar is a chemical form of energy. The plants use the sugar to grow and live. And reproduce. Herbivores "borrow" the sugar from the plants, by eating the plants so that THEY can grow and live. And reproduce. Carnivores "borrow" the sugar from the herbivores, by eating the herbivores so that THEY can grow and live. And reproduce. Some species, like humans (apes) are omnivores. They "borrow" the sugar from plants and animals, by eating the plants and other animals (Big Macs and the like) so that THEY can grow and live. And reproduce.

Your claim that evolution violates the second law of thermodynamics demonstrates a childlike level of ignorance of biology. But then, I attended secular universities where they taught actual science, rather than Christian universities, where they teach make believe.



EarthScienceguy wrote:

This kind of reasoning has always been very upsetting to me. Because this is the same kind of reasoning that men use to enslave other men and to kill other men. If they can prove that one kind of man is not as evolved as another type of man then there is no reason to consider the worth of that person.



First of all, evolutionary divergence has nothing to do with the "worth" of a species. Species which are isolated from each other diverge in an attempt to survive, based on environmental needs and conditions.

If two (or more) populations are separated from each other long enough they will evolve in different directions. Which is why we find llamas in south America, and camels in Eurasia. This is natural selection at work.




Wikipedia
Llama
The llama (/ˈlɑːmə/; Spanish pronunciation: [ˈʎama]) (Lama glama) is a domesticated South American camelid, widely used as a meat and pack animal by Andean cultures since the Pre-Columbian era.

Scientific classification e
Kingdom: Animalia
Phylum: Chordata
Class: Mammalia
Order: Artiodactyla
Family: Camelidae
Genus: Lama
Species: L. glama
Binomial name
Lama glama
(Linnaeus, 1758)
Lama glama Vicugna pacos range.png
Domestic llama and alpaca range[1]
Synonyms
Camelus glama Linnaeus, 1758

The genera Lama and Vicugna are, with the two species of

true camels,

the sole existing representatives of a very distinct section of the Artiodactyla or even-toed ungulates, called Tylopoda, or "bump-footed", from the peculiar bumps on the soles of their feet.
https://en.wikipedia.org/wiki/Llama

Llamas and camels diverged from a common species. Llamas and camels retain distinct familial resemblance however. Hogs and hippos on the other hand, although they appear to share a familial resemblance, are not actually directly descended from each other.

Wikipedia
hippopotomus
Evolution
Until 1909, naturalists grouped hippos with pigs, based on molar patterns. Several lines of evidence, first from blood proteins, then from molecular systematics[11] and DNA [12][13] and the fossil record, show that their closest living relatives are cetaceans – whales, dolphins and porpoises.[14] The common ancestor of hippos and whales branched off from Ruminantia and the rest of the even-toed ungulates; the cetacean and hippo lineages split soon afterwards.
https://en.wikipedia.org/wiki/Hippopotamus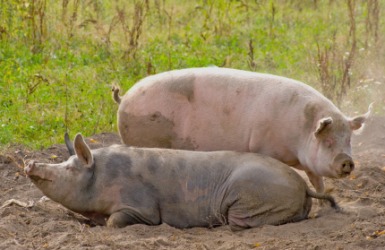 Now, let's tackle the second problem with your statement.


EarthScienceguy wrote:

This kind of reasoning has always been very upsetting to me. Because this is the same kind of reasoning that men use to enslave other men and to kill other men. If they can prove that one kind of man is not as evolved as another type of man then there is no reason to consider the worth of that person.


You seem to be suggesting that humans enslaving other humans leads to different species of humans. There were various species of humans in the past. But only ONE species of humans exists today. ALL existing humans are of the species homosapians sapiens. Misunderstanding science often lead to misinformed conclusions.


EarthScienceguy wrote:

This is hardly new information. One gene copied onto another gene means that the information already existed. This is not new information.


The information often does not always copy exactly. This leads to slight variations between generations. Mutations. Mutations which are harmful to the organism can be fatal. The organism often does not survive to reproduce. In which case the mutation has reached a dead end. Mutations which give the offspring slight advantages that the parent did not possess can help the offspring to survive... and reproduce. Successive generations of these slightly mutated improvements produce individuals better suited to the conditions at hand for survival. Evolution and natural selection at work. Humans have sped up the process of genetic evolution by artificially selecting traits which humans find useful. Corn is just one example.


EarthScienceguy wrote:

Heck yea, I do and I also know why. Because whenever animals die they have to be buried quickly otherwise they will decay. So it would be a very rare event that this would happen. In fact it is amazing that we have as many fossils as we do. Almost like there was a flood over the whole earth that buried all of the animals that we find in the fossil record.


As a rule, animals do not bury their dead. Dead creatures are devoured by other creatures, who tend to drag off portions to safer locations for eating. Sometimes though, even large animals are caught in natural conditions, such as floods, or mud pits, in which their carcasess are buried and protected from scavengers. Such conditions are much more rare, but allow for some of the remains to be discovered thousands, or millions, of years later. Sometimes all still in close proximity.



EarthScienceguy wrote:

Life also has to follow the laws of thermodynamics that means that life has to follow the equation

dG= dH - TdSth - TdSc

G is gibbs free energy
H is enthalpy
Sth is entropy of thermal work
Sc is Configurational entropy


A plant or animal is living as long as TdSth and TdSc are 0 meaning that there is only one path for energy flow and only one arrangement that the atoms can have.

Now when a plant or animals dies then the energy has more than one path to take. There fore TdSth is not longer 0. And there are many arrangements that the atoms can have therefore TdSc also is not longer 0.

This is why plants and animals begin to decay when they die.

Or it could be 81% like Thompson and Bergman suggest.

Jeffrey Tomkins and Jerry Bergman, "Genomic Monkey Business—Estimates of Nearly Identical Human-Chimp DNA Similarity Re-evaluated Using Omitted Data," Creation Ministries International, accessed December 16, 2015, http://creation.com/human-chimp-dna-similarity-re-evaluated.

Or it could be 70% like Bugg's suggest

Richard Buggs, "Chimpanzee?" Reformatorisch Dagblad, October 10, 2008, http://www.refdag.nl/.chimpanzee_1_282611; "An Automatic Comparison of the Human and Chimpanzee Genomes," Progetto Cosmo, accessed December 16, 2015, http://progettocosmo.altervista.org/index.php?option=content&task=view&i... Tomkins, "Comprehensive Analysis of Chimpanzee and Human Chromosomes Reveals Average DNA Similarity of 70%," Answers Research Journal 6 (2013): 63–69, https://answersingenesis.org/answers/research-journal/v6/comprehensive-analysis-... among others.

or 88-90%

In the 2005 Nature paper describing the elucidation of the chimpanzee DNA sequence (accessable at http://www.nature.com/nature/journal/v437/n7055/full/nature04072.html), the authors stated, "Best reciprocal nucleotide-level alignments of the chimpanzee and human genomes cover ~2.4 gigabases (Gb) [2,400,000,000 DNA letters] of highquality sequence, including 89 Mb [89,000,000 DNA letters] from chromosome X and 7.5 Mb [7,500,000 DNA letters] from chromosome Y" (p.71). Only these 2,400,000,000 DNA letters were used to calculate the published 1.23% DNA difference between humans and chimpanzees. In table 1 of the same paper, it is clear that 2.7 gigabases (GB) — 2,700,000,000 DNA letters — in total were sequenced, leaving 0.3 GB

Take your pick.

So lets take a look at where we stand.

Evolutionary claim
Human - chimpanzee genetic identity is 98-99%

Actual data
Actual genetic identity is only 88% (400,000,000 DNA differences
between the two species)

Evolutionary claim
Humans chromosome #2 arose via fusion of two ape-like chromosomes

Actual Data
The purported "fusion" site is actually a functional DNA element in human
gene

Evolutionary claim
Gene order along chromosomes has no function, therefore shared gene
order demonstrates common ancestry

Actual Data
Gene order along chromosomes does indeed perform a function

Evolutionary claim
Humans and chimpanzees shared genetic mistakes (e.g., pseudogenes)

Actual Data
Pseudogenes appear to be functional DNA elements, not mistakes

Evolutionary claim
Humans possess the broken remnants of an ancient chicken gene
(vitellogenin)

Actual Data
No such remnant exists; instead the "fragment" appears to be a functional
DNA element

In your make believe holographic world you might imagine what you would like life to be like. But here in the real world based on facts evolution is simply not supported by the evidence and the laws of Nature.


You appear to be taking your information from a source, or sources, on creationism. Creationism is NOT a science. Creationism is gibberish. Only a novice, or someone with no understanding of basic science would claim that evolution contradicts thermodynamics. Graduate high school. Take some college level biology. Then we can talk.