GADARENE wrote:

"So if you think that I'm in any way "Putting Jesus Down" you are mistaken." myth believer

"I don't condemn Jesus at all" mb

"On the contrary, my view of Jesus is a highly respectable view." mb

What is it about Jesus that these myth believers respect?

christians, you may not have known this. myth believers don't put him (jesus) down or condemn him, either. as a matter of fact, they highly respect him and compare his teachings favorably with (perhaps even influenced by) Buddha

why? why do you think myth believers highly respect him, don't put him down or condemn him?


For me the answer is simple. They simply aren't even talking about the same person.

For a Christian the New Testament = "The verbatim words of Jesus" (at least in the parts where it claims to be speaking for Jesus)

In fact, many Christians go far beyond this and attribute the entire teachings of Paul to Jesus, etc.

Christians also accept everything that is stated about Jesus in the New Testament. If the New Testament says that Jesus walked on water, then Jesus walked on water. Etc.

In other words, for them "Jesus" is precisely this character described in the New Testament verbatim. They even refer to the Gospels as "Jesus said this, and Jesus said that" (even in cases where the actual scriptures themselves aren't even claiming that Jesus had said the verses they are referencing)

So that's the "Christian View of Jesus".

A non-believer of the Bible who believes that Jesus may have actually been a real historical person at one point, but who doesn't believe all of the supernatural claims of the New Testament, doesn't accept every little verbatim detail. Neither in terms of what Jesus might have said, nor in terms of what Jesus might have actually done.

So the "Jesus" that they are imagining, is a totally different person from the character described in the New Testament.

Doesn't the New Testament actually have Jesus stating outright somewhere that he is "The Christ"?

If so, the non-believer is going to dismiss those kinds of claims as being nothing more than false superstitious rumors placed onto Jesus by these authors.

So the "Jesus" of a Non-believer, and the "Jesus" of Christianity are really quite different.

They are two different people. One is seen as the divine virgin-born son of God. The other is seen as a mortal man who was obviously quite terribly misunderstood and made into some sort of fictional demigod via the New Testament Rumors.

So these are simply two entirely different views of who Jesus might have been.

And therefore it's quite possible for a non-believer to imagine a "respectable" Jesus that wasn't a demigod at all, but instead was just some guy who was trying to teach higher morals values to his own culture and instead became a victim of Christian superstition and mythology.

I certainly fit into this group of non-believers who holds Jesus up as potentially having been a nice person who actually meant well.

But then again I was once a Christian who defended Jesus from hardliner Christians too. Believing that Jesus was the Son of God at that time.

So perhaps I'm kind of like an ex-smoker. Someone who used to smoke and has quite really hates to be around cigarettes.

The same thing may be true of ex-Christians. Even though they have quit Christianity they still hate to see Jesus made into a hateful demigod, so they try to make him into something more respectable.

It's probably a futile endeavor, but it's actually quite FUN.


Here's a book by a non-Christian that attempts to hold Jesus up in a respectable light.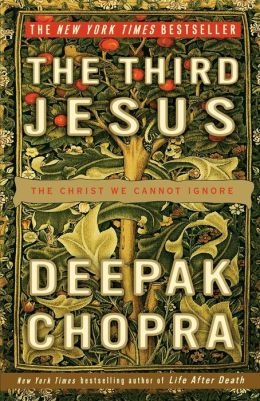 I confess I haven't read this book myself, but I have seen videos where Deepak has explained the main concepts within. I should read it actually. I just don't want to buy it. I'll have to check to see if my local library has a copy. I could be a fun read.